Xin Liu's sculpted avatar comes to life in space and dances through the cosmos on a Blue Origin rocket, until it is destroyed upon reentry.
Liu brings her sculpted avatar to life in space and it dances through the cosmos on a Blue Origin rocket.  In May she brings her robot's space dance of death to the Exploratorium's Webcast Studio.  Footage of the space voyage and narration of Xin's journey creating the avatar, written by poet Abigail Wender, combine to provide an immersive and truly other worldly experience.  Living/Distance explores how each person holds a relatively inconsequential, but wholly unique place in this world.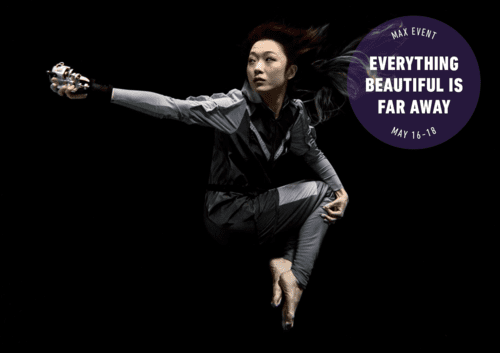 Xin Liu (b. 1991, Xinjiang/China) is an artist and engineer. In her practice, Xin creates experiences/experiments to take measurements in our personal, social and technological spaces in a post-metaphysical world: between gravity and homeland, sorrow and the composition of tears, gene sequencing and astrology. She examines the discourse-power nexus as an active practitioner, an experimenter and a performer. Her recent research and interest center around the verticality of space, extraterrestrial explorations and cosmic metabolism. Xin is the Arts Curator in the Space Exploration Initiative in MIT Media Lab, a member of New INC in New Museum and a studio resident in Queens Museum. She is also an artist-in-residence in SETI Institute. She is recipient of numerous awards and residencies, including Forbes 30 under 30 Asia, the Van Lier Fellowship from Museum of Arts and Design, Sundance New Frontier Story Lab, Huayu Youth Award Finalist, Creative Capital On Our Radar, inaugural Europe ARTificial Intelligence Lab residency, inaugural ONX studio program (founded by New Museum and Onassis NY) and Pioneer Works Tech Residency. She has been commissioned by institutions including Abandon Normal Devices Festival (UK), Ars Electronica (Austria), Media Art Xploration Festival (US) and Onassis Foundation Enter Program. She is an advisor for LACMA Art+Tech Lab and a faculty member at The Terraforming, a new research program at Strelka Institute in 2020. Xin graduated from the MIT Media Lab with a masters degree in Media Arts and Sciences. She has an M.F.A from Rhode Island School of Design and B.E from Tsinghua University in Beijing (Measurement, Control Technology, and Instrument).